Kindness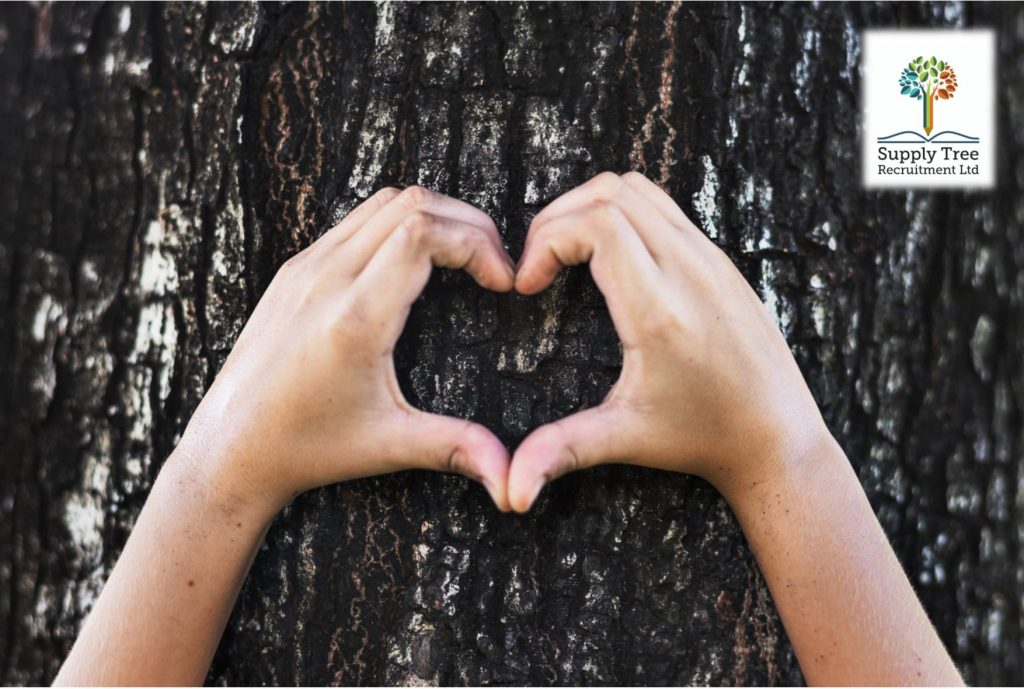 Supply Tree take our commitment to kindness to our community very seriously.
We work with local charities who make a difference to the lives of young people and also support our schools, teaching staff and the local community.
We run our Teacher and School recommendation scheme which supports local Dorset businesses.
Read on to find out more….
Our Recommendation Scheme 
Jeremy, one of our experienced team members has been flying the flag for Supply Tree. His recommendations to friends and schools have led to him being awarded two £25.00 recommendation voucher of his choice. Jeremy has very kindly asked if we could donate his vouchers to the British Heart Foundation and to Macmillan Cancer. We were only too happy to oblige – and in fact, Supply Tree doubled this, therefore both charities have received vital funds to support their amazing work. Thank you Jeremy. #teamSupplyTree #donate #kindness
If you would like to find out more about the work of these charities, please visit: British Heart Foundation and Macmillan Cancer Support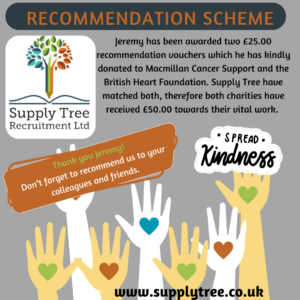 Children In Need 2023
We loved seeing how our schools were "Spot-tacular" at supporting BBC Children in Need day. Supply Tree made a donation to BBC Children In Need – such significant support is provided by Children In Need. What did your school community do for this event? Comment on our Facebook page.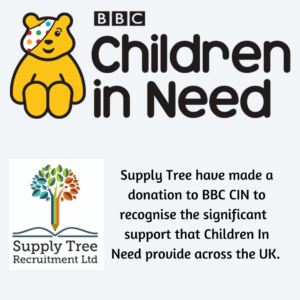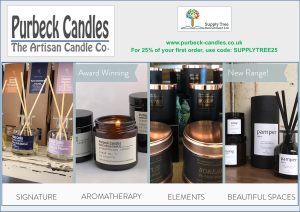 'Supporting local business!'
We work with many schools and teachers in The Purbeck area of Dorset and we are proud to promote a local award-winning business based near Corfe Castle.  Our friends at Purbeck Candles create exquisite natural home fragrances, and each collection is blended and hand poured using only natural products.
Take advantage of our special Supply Tree discount and receive 25% off your first order.
PURBECK CANDLES CODE: SUPPLYTREE25
December Kindness 2022
£25 recommendation voucher for Sue!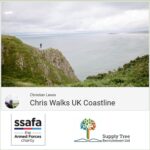 Sue recommended her friend Terrese to join the team and decided to donate her £25 voucher to a friend who is raising money for SSAFA (The Armed Forces Charity), Christian Lewis.  Christian is walking the entire UK coastline (approx. 14,000 km) to raise funds and awareness.  We matched the donation, taking the total to £50.
To make a donation, feel free to click on the link: Chris Walks UK Coastline
£50 recommendation voucher for Karen!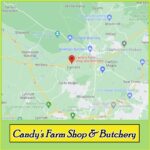 Huge thank you to Karen who recommended a Bournemouth Primary School to work with us here at Supply Tree.  We are really pleased to be able to support the school and have received some amazing feedback about our supply teaching team!
Karen chose her voucher for Candy's Farm Shop & Butchery in Wimborne. Brian and Charlotte and have been running the small family farm since 2003 as tenants of Dorset Council.  After some success with local farmers' markets, Candy's Farm Shop was opened in 2016.
50 Random Acts of Kindness..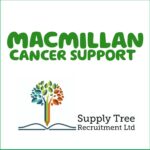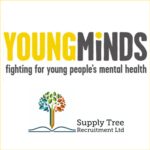 Nanina, friend and teacher with Supply Tree is currently completing 50 Random Acts of Kindness.  She has recommended two teachers to join the team, Rebecca and Maria.  As part of her 'Kindness Campaign', she decided to donate both of her £25 vouchers to two charities, Young Minds Dorset and Macmillan Cancer.  We at Supply Tree matched both donations, taking each to £50.  Thank you Nanina!
£25 recommendation voucher for Cathy!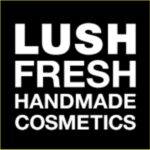 Teaching Assistant Trisha joined the Supply Tree team after being recommended by her good friend Cathy.  Trisha has settled in well and has been out supporting schools, already being added to 'favourites lists'!
Cathy chose her voucher for Lush Spa based in Poole!
Christmas chocolates for schools!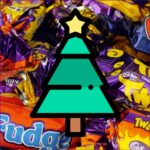 Vicki & Sharon went out visiting our client schools to wish everyone a Merry Christmas and deliver chocolates for the staff rooms!
November 2022 – £25 recommendation voucher for Sean!
Sean recommended Jemma to join the team here at Supply Tree and she has been out supporting many Dorset schools as a Teacher and TA.  Sean chose his voucher for Renoufs Cheese and Wine Bar.
Renoufs uncorked its first bottle of wine in the heart of Westbourne in 2015.
Since then, the Renoufs family has grown to include 7 award-winning Wine Bars and 2 Cheese Shops across Dorset and Hampshire, which are popular for their exceptional quality and warm service.
October 2022 – Thank you Tracy!
Nicky H was recommended to join the Supply Tree team by one of our most requested supply teachers, Tracy.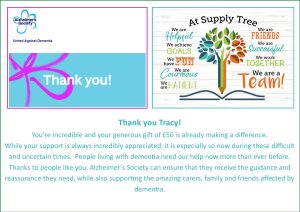 Tracy decided to donate her £25 recommendation reward to the Alzheimer's Society (
https://www.alzheimers.org.uk/
), and we wanted to match her donation, doubling it to £50.  Thank you to Tracy and Nicky for being part of our team and your continued support.
Calling all quizzers!
Go
#TeamSupplyTree
!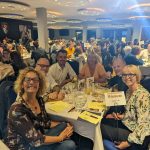 The evening ended with us achieving an amazing joint 'first' and then taking part in a nail-biting tie-break! We were pipped at the post and came a very respectable second out of 24 teams.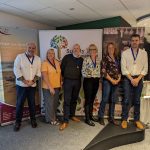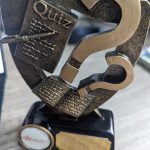 It was a thoroughly enjoyable evening and we were so proud sponsor the evening supporting such a wonderful local charity.  Life Education Wessex helps to effectively communicate healthy lifestyle messages and empower children aged 3-13 with the knowledge, skills and self-confidence to make positive healthy decisions and stay safe in schools.
October 2022 – £25 Recommendation voucher for Andrew!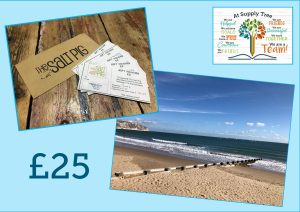 Thank you to Andrew G for recommending Gemma D to join the team.
Andrew has chosen his £25 recommendation voucher for
The Salt Pig
, based in The Isle of Purbeck in Dorset. They provide people with quality food from their local surroundings at an affordable price, and being able to show people what is available on their doorstep.
September 2022 – £25 Recommendation voucher awarded to Paula!

Thank you to Paula D for recommending Andy J to join the team here at Supply Tree.
Paula has chosen her £25 recommendation voucher for
Soul Serenity the crystal spa
in Wimborne, the perfect place to unwind after a busy week in school!
July 2022 – End of Summer Term treats!
We wanted to thank the schools across Dorset who have chosen to work with us here at Supply Tree, by providing boxes of biscuits for the staff rooms at the end of term.  It has been an exceptionally busy and challenging year for schools and we are pleased that our amazing team of supply teaching staff have been there to support them.
We donated twelve bottles of Prosecco for the 'Shades of Different' charity fundraiser CD launch event in June 2022.  The event took place on the 14th July at St Leonards & St Ives Village Hall featuring musical entertainment, a bottle tombola and a raffle.  The charity aims to raise funds to provide vital therapies and promote better inclusion for differently able children, initially in Dorset and hopefully spreading to other parts of the UK in the future.
June 2022 – £50 Recommendation voucher awarded to Carly!
We would like to thank a local primary teacher Carly who recommended a Poole primary school to work with us here at Supply Tree.  Carly chose a voucher for Coast. Surf + Moto, an independent family run surf shop and café based near Sandbanks in Poole.  The perfect place to visit during the school Summer holidays!
May 2022 – £25 Recommendation voucher awarded to Ellie!
Thank you to our supply teacher Ellie for introducing her mum Carol to join Supply Tree as a Teaching Assistant!  They are our first 'mother & daughter' team, and have been out supporting schools and nurseries in Poole and Bournemouth.  Ellie requested a voucher for a local independent bakery Tasty Bakes in Kinson.
April 2022 – £25 Recommendation voucher awarded to Jennie!
Jennie introduced the wonderful Katie to join us here at Supply Tree and both teachers have been supporting schools in Wimborne and Bournemouth.  Jennie chose 'Happycino at the Mill' for her £25 voucher, a family-run coffee & brunch bar in Wimborne with a focus on promoting positive wellbeing and breaking the stigma surrounding mental health.
Daily Echo School Awards – March 2022
We were proud to sponsor the 'Primary School Teacher of the Year' category in this years Daily Echo School Awards.  It was lovely to see some familiar faces being nominated and we would like to say a huge well done to the winners.
March 2022 – £25 Recommendation voucher for Emily!
Karen joined the Supply Tree team after being recommended to join us by her friend and colleague, Emily.  A voucher for £25 was chosen for Goulds Garden Centre in Dorchester.  A long established, local family business that employs over 200 local people and makes a significant contribution to the local economy.
In true Supply Tree tradition, we joined schools in celebrating our favourite day of the year.
We're off to see the Wizard.. the wonderful Wizard of Oz..!
March 2022 – £50 Recommendation voucher for Karen!
Huge thank you to Karen who recommended a lovely school in Wimborne to work with us here at Supply Tree.  Karen chose her voucher for Sugar Mango, an independent colourful women's fashion shop boutique based in Bournemouth, Dorset.
We were thrilled to be the top story on 10th March 2022 in the Dorset Biz News.
Take a look at our stories so far…
January 2022 – £50 Recommendation voucher for Sean!
A school in Hampshire was recommended to us by one of our most sought after supply teachers and many of our the team have been out supporting the school since November 2021, thank you Sean!
January 2022 – £25 Recommendation voucher for Christine!
Thank you so much to Christine for recommending her friend and colleague Wendy to join the team.  Both ladies have been out supporting schools in Bournemouth, Poole, Wimborne and Christchurch.
Christine chose her voucher for Dicky's Bar & Brasserie in Southbourne, who provide a wide selection of dishes with European influences.
December Kindness – 2021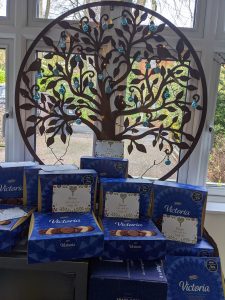 An office full of lovely chocolate biscuits ready for delivery!
No they aren't for us unfortunately….
Vicki and Sharon both travelled across Dorset delivering biscuits to schools before Christmas.  We wanted to say thank you to the wonderful staff for welcoming and supporting our our supply team during these unprecedented times.
Hamwic Foundation Christmas Eve Box Appeal – 2021
#TeamSupplyTree
have provided supply teaching support to many schools throughout 2021, who are part of the
Hamwic Education Trust
in Dorset.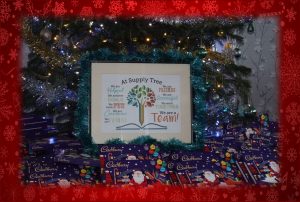 Due to the success of last year's Christmas Eve Box Appeal, we wanted to be a part of it again and this year donated 100 Cadbury selection boxes on behalf of Supply Tree.
Huge thank you again to
Howdens Joinery
for their generous donation of a cheque for £500!
Following such a difficult time for some of their families, the trust will be able to give some of the very vulnerable children a present on Christmas Eve.  If you wish to find out more or make a donation, please follow the link:
Hamwic Just Giving Page
A Quiz-tastic evening!
We were so proud to be part sponsor in this year's '
Life Education Big Quiz 2021
', held at AFC Bournemouth on 14th October.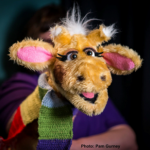 This annual event was spent with representatives from
#TeamSupplyTree
, (Vicki, Sharon, Andy R, Karen B, Cheryl and Nanina).
Unfortunately we didn't win this year, but gained a respectable score and thankfully were not awarded the 'spatula of shame'…
Last year, thanks to the generous support of  wonderful Quizzers, Life Education managed to raise just over £14,000 to support emotional health and well-being education for local children, which was truly fantastic!
Biscuits for the staff room!
We often pop into our client schools and drop off chocolate biscuits for the hardworking staff. Our supply teachers have been supporting many schools across Dorset since returning from lockdown and this is our little way of saying thanks for working with us!
Our 'Charity of the Year' (April 2021-April 2022) – Life Education Wessex
Leading health, drug and emotional wellbeing education programme. A whole-school approach to improving children's wellbeing and progress, based on the core values of Safety, Caring, Achievement, Resilience and Friendship (SCARF).
Christmas Kindness – 2020
Supply Tree provided '300' chocolate lollies to Father Christmas as he made time out of his busy schedule to deliver them to a local primary school and wished the children and staff a Merry Christmas.
Christmas Eve box appeal – 2020
At the beginning of December 2020, we met with Sean (Chief Financial Officer) at Hamwic Education Trust (socially distanced of course).  We spotted Hamwic's Christmas Eve Box appeal 2020, which provides a special gift to vulnerable children within the trust. We very much wanted to support this both personally and on behalf of Supply Tree. We donated new pyjamas, stationery, colouring books and 50 Cadburys selection boxes.  We also presented a cheque for £500 on behalf of Howdens Joinery (South West) and would like to express a huge thank you to them for their generous contribution to the appeal.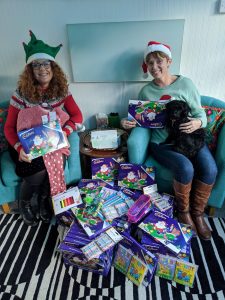 We all hope that this provided a little happiness to the vulnerable children who attend schools within the trust at Christmas, after a particularly difficult year.
Supply Tree are proud to be working with several schools in Dorset, who are part of the Hamwic Education Trust.